Author: Beach Combing | in : Contemporary, Modern , trackback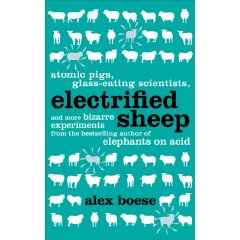 Beachcombing has a terrible secret. He is not very good at science. Yes, he receives emails about astronomy and nuclear physics, aviation and genetics on a daily basis. But, while being fascinated, he understands almost none of what he reads there. In the autumn of his years it is simply too late to put this right: damnation! But every so often he plunges into the sea of physics, chemistry and biology hoping that his armbands and winsome smile will see him through. And it was on one of these brave trips into the waves that Beach decided to read Alex Boese' Electrified Sheep: Glass-eating Scientists, Nuking the Moon and More Bizarre Experiments (Thomas Dunne Books 2011).
Almost eight weeks have passed since (oh happy day) Electrified Sheep arrived in a padded envelope and Beach has still not finished the book: so why on earth is he writing a review? The simple answer is that Beach enjoyed an early chapter on 'the Man Who Married His Voltaic Pile' back in April so much, that he has been rationing Electrified Sheep out to his very occasional baths. There he can now sit back and think of something other than fairies and the mortgage. So much better than taking a risk with the Economist or the Spectator. In any case, after five or six hours in the tub he has no problems pronouncing on the book's quality.
Perhaps for those who love science the material that AB has gathered together here will be a bit passé. Perhaps. But for unscientific Beach, who is tired of opening bizarre books and reading about the same thin gruel of Civil War coincidences and mysterious deaths, almost every page has proved, instead, a revelation. And rarely for someone from a science background – sorry! – AB writes with cracking style. Are you one of those well-informed souls who will find this book an already-known? Or will you be gobba-smacked like the present author? Well, how many of these cute science-oriented facts did you know?
i) The first man-made object in space may have been a man-hole cover. (Gosh!)
ii) Benjamin Franklin almost killed himself while electrocuting a turkey. (If only…)
iii) American scientists seriously considered nuking the moon. (Doh!)
iv) Richard Lynch Garner learnt to speak to gorillas by sitting in a cage in darkest Africa. (Actually Beachcombing did know that but he was glad to read about it in more detail.)
Only another six baths left and the book will be finished. Beach then plans on purchasing Elephants on Acid an earlier work by the same author. With any luck that should see him through to Christmas and universal cleanliness/knowledge. Perhaps by that time he'll be able to resit his GCSE in integrated science and start over.
Strange History is always on the look out for good reads of this calibre: drbeachcombing AT yahoo DOT com