Author: Beach Combing | in : Medieval , trackback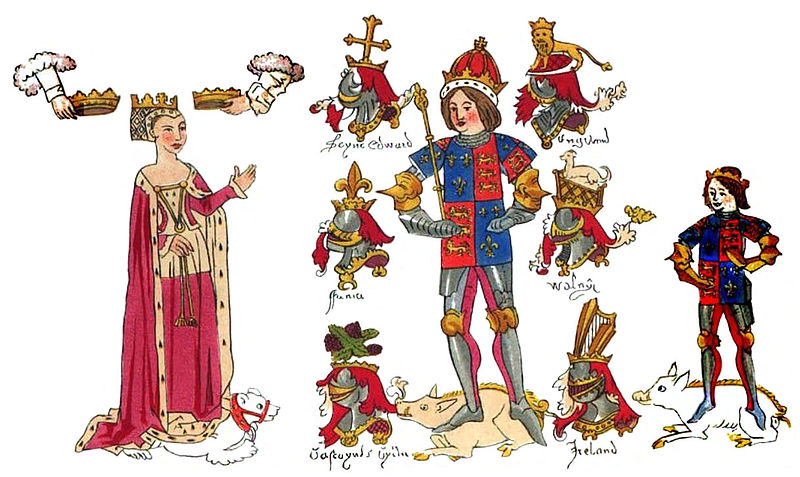 ***Dedicated to Roundj***
Beach does his very best not to be topical on this blog. But the news coming from Leicester (UK) yesterday is hard to ignore. At the end of August archaeologists began to dig in a car park there in search of the body of Richard III, the last English king to die in battle.  And yesterday (12 Sept) they announced that they had probably found the body…
Richard a usurper – who likely killed his two nephews, 'the princes in the tower' – was a man of extraordinary energy and talent. His death at the Battle of Bosworth Field – one account has his head being cleaved in by a poleaxe – not only ended his life, but also any ability to tell his side of the story. And the generations after saw the gradual blackening of Richard's name by Tudor successors.
Were his villainies and 'machinations' then all Tudor smears? Or were they amplified truths? Historians of the fifteenth century have differing opinions. But there is general regret that we do not have more contemporary sources to check what comes afterwards. That is why the discover of a body is so exciting for here is some evidence without obvious Yorkist or Lancastarian affiliations.
But before the body, a little background. Richard III was killed at Bosworth Field in the midst of the enemy. Even one of his greatest critics, Polydore Vergil, pays him tribute for fighting manfully there. After the defeat of the king's party his body was left 'naked of all clothing, and laid upon a horse back with the arms and legs hanging down on both sides'. Richard was exposed and then finally buried in a nearby Franciscan Monastery known as Grey Friars.
The monastery disappeared after the English reformation. But up until the early seventeenth century there was some local memory as to where Richard III, 'sometime king', was buried: in fact, a garden was kept there by the then mayor. But afterwards that memory was too lost and modernity, in the guise of a social worker's carpark intervened.
An exploratory dig in the carpark quick established that there was, indeed, a late medieval foundation underneath and the search for bodies uncovered two: a woman and, separately, a man. Of course, lots of men were buried in fifteenth-century Leicester. But there are two things that excite attention about this skeleton. First the head has been cleaved in and an arrow-head was recovered from the back: these suggest battle field injuries.
Second, the individual in question had curvature of the spine that would have caused the right shoulder to be significantly higher than the left.  Anyone who has read or seen Shakespeare's Richard III will remember that Richard was a 'hunchback'.
The archaeological team were very smug in their press conference yesterday. And despite all the caution about 'further tests being needed' they clearly believe they have Richard on their table. For Beach the most interesting part of all this is that the discovery of this hypothetical Richard confirms that history has run away with itself in its memories of the usurper.
For one, Richard III becomes in Shakespeare a hunchy with a withered arm. But the body found yesterday had a scoliosis on the spine and seems to have been, otherwise, a healthy individual. The scoliosis would have, as we noted above, caused some visible abnormalities that may have led to the tag 'hunchback', but we are long way from Shakespeare's 'rudely stamp'd' monster.
Second, later sources – seventeenth-century echoes from a Tudor black legend? – describe the disposal of Richard's body. In one version he was dug up and thrown into a river and in another his coffin was used as a horse trough.
While writing this Beach remembered a book that gave him great pleasure when he read it with flu several years ago: Josephine Tey's Daughter of Time, which makes Richard's life into a murder mystery. Other Ricardian thoughts: drbeachcombing AT yahoo DOT com
***
25 Sept 2012: Invisible came up with this fascinating news clip from 1935: EXCAVATORS FIND BONES, POSSIBLY OF 3RD RICHARD Leicester, Eng., Oct 2 (UP) A leaden coffin containing a skeleton which may be that of Richard III has been found during excavations for the next wing of the Leicester College of Arts nad Technology, built on the site of the former church of St. Mary of Newarkes. The church was built by Henry, Duke of Lancaster, in 1353 and was destroyed during the Reformation Richard III was killed at the Battle of Bosworth in 1485. It was understood that he was buried in this church, but historians have recorded that later his body was unearthed and his bones thrown by a mob over Row Bridge into the river. L.W. Kershaw, principal of the college, says the skull of the skeleton has a receding forehead and a projecting jaw, the attributes of King Richard. Piqua [OH] Daily Call 2 October 1935: p. 3. Then Phil P with a literary fillip: In the introduction to his historical fantasy, "The Dragon Waiting", John Ford remarks that many historians date the Renaissance as beginning with the death of Richard III, as though he had single-handedly held back the progress of history. He then added that he had always felt that a bit unfair and had decided to imagine circumstances in which Richard's more egregious acts would have been justified. If you like historical high fantasy you might enjoy it. Thanks Invisible and Phil!