Author: Beach Combing | in : Contemporary , trackback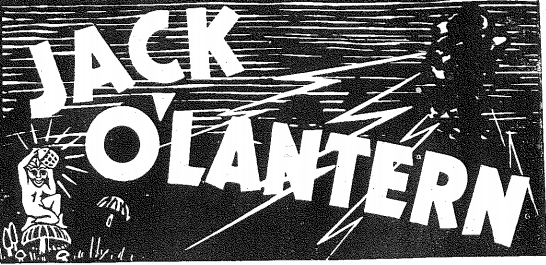 As this year's epiphany gift Beach put up the only two numbers of a Fortean magazine from the 1940s entitled New Frontiers: we couldn't host this on the website because of an upload limit, and we had to trust some external site which proved unreliable. Thanks to our webmaster, Raoul, the magazine though has now been put up on our source page and should be easily downloadable. In any case, flicking through these pages one of the things that caught Beach's attention were the peculiar adverts of yesteryear, particularly the fey lucky charms.
Consider Jack O'Lantern, 'King over all the lucky Devon Pixies, luckiest reigning Monarch and Presiding Genius over the Fortunes and Destinies of his own people of Devon, Watcher over all his Cornish Kinsman, unseen Counciler and Provider for his Friends and Adherents all over the world.'
Now Jack O'Lantern was the name of a will o' wisp figure from England who was sometimes confused with the Pixies in the south west. But the man or woman who ran this ad did not seem to have a great interest in folklore. They invited those intrigued to write off for the The Story of Jack O'Lantern with a stamped addressed envelope and no charge. The book – which seems no longer to exist anywhere – presumably promised great wealth and then the gullible could buy – for how much? – a Jack O'Lantern figure.
The advertiser included some readers' letters to give a taste of the gold that was about to cascade down.
A.W.R.Hertford wrote: 'Since my purchase of Joan the Wad [another south-western folklore figure] and Jack O'Lantern my luck has most certainly changed. I have won £166 13 s. 4d. in Daily Express Crossword.'

A.B. from Sto on the Wold writes that 'I am sending 19/- to Jack O'Lantern Place. My brother is much better and is able to get out in the garden a little. We are all most grateful to you. Thanking you kindly.'
So did the winners have to send a commission for their luck to continue?
Luck like the immune system can perhaps be altered by attitude. In that light a ritual of sending off a few shillings to some conartists is not perhaps the worst thing to be done: certainly, it is more likely to work than a pyramid scheme. But what if anything can we learn about the masterminds behind this ad? The advert from sixty years ago was run out of: Jack O'Lantern's Place, St Benets Abbey, Lanivet, Bodmin, Cornwall: drbeachcombing AT yahoo DOT com An abbey is hardly the place you'd expect to meet lucky Jack.