Author: Beach Combing | in : Contemporary , trackback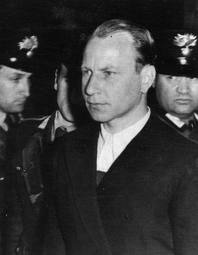 ***Dedicated to Cristiano and the memory of his old friend Johann Elser***
In the 1930s and the 1940s Britain boasted perhaps the best intelligence services in the world, with only the Soviets as rivals. SIS (aka MI6) operated throughout the Empire but also in allied and potential enemy countries to great effect. When World War Two came British expertise and experience in this field paid off handsomely in terms of information gathering, sabotage, counter intelligence and decryption.  As one old hand noted, only SIM, the Italian secret services were able to keep up with the British once the conflict had got underway: the Germans and especially the Japanese fell far behind. Of course, the dominance that Britain had built up went horribly wrong after the war, when Soviet moles made MI6 into a liability for the western alliance. But that's another and a far sadder story… For today, MI6 has been much in the news in the last week because a range of pre-war and war documentation has been released describing MI6 activities and intelligence gathering. There have been notes about a cross-dressing British spy in Franco's Madrid – whoops… and even a British project to assassinate a series of Third Reich leaders, after DDay, one that was happily scotched  but that survives on paper. However,  a real and little discussed gem (fo-1093-288, pdf) is this piece from the debriefing of two German officers. Herbert Kappler (obit 1978: pictured above), a man with a good deal of blood on his hands, who, at the end of his life, escaped from an Italian prison hospital in a suitcase, and Constantin Canaris (obit 1983), nephew of the legendary Admiral Canaris.
No explanation is given as to how this conversation between two German officers was attained. But it was common policy in the war for British interrogators to bug cells – there are already cases from the summer of 1940 – and almost certainly this was a private conversation with a microphone at the end of it. Was Canaris perhaps deliberately asking questions for the British? drbeachcombing AT yahoo DOT com Possibly.
Canaris and Kappler speak about two fascinating subjects. The first is Kappler's interrogation of Johann Elser, the man who came closest to killing Hitler, in 1939, one of several times when 'providence' (that 'arrant whore') saved the Führer. Canaris describes how he killed Elser with kindness, chatting away until the man's life story came pouring out in four hundred closely typed pages. We know from elsewhere that Kappler was an all too capable Gestapo chief: his abilities were unfortunately lent to horrific ends, including the liquidation of the Roman ghetto and the Ardeatine Massacre: Kappler personally shot one of the hostages there. Kappler, on the evidence of this conversation, seems to have had a genuine affection for Elser calling him a 'genius' and stating 'I hope he is still alive': unfortunately that brave man had been executed in April of 1945 as the Third Reich began to tie up 'loose ends', spiting posterity. What a hero Elser would have been for post-war Germany.
Kappler does give us one particularly precious anecdote from the interrogation that, to the best of Beach's knowledge, has not so far made it into the history books.
One morning just as I was interrogating Elser, the Reichsfuehrer walked in and took over the interrogation himself. With me [Elser] always used to talk. After the Reichsfuehrer had been in it took me two whole hours till I could get him to open his mouth again. He was just too frightened to talk. He was completely cowed and asked me whether it was true that the Reichsfuehrer wanted to have him roasted alive.
The Reichsführer is, of course, the truly dreadful Heinrich Himmler, an individual, unlike Kappler, with no redeeming features, a murderous, empty tomb of a man. The image of him banging his fist on the table, his sweating face coming over the table toward the terrified and decent Elser will stay with Beach for the rest of this evening. Perhaps a hot bath…
The second subject is the capture of Stevens and Best, two members of British intelligence who were scooped up in a brilliant German trick at the Dutch border in the so-called Venlo incident in 1939. Kappler describes the interrogation of Stevens (obit 1957) and a worrying episode where, if Kappler is to be believed, Stevens gave up a German working for the British to the tender mercies of the Gestapo: luckily the man in question had already escaped.  As always with these questions far more is unknown than known: this may have been a deliberate even a prearranged strategy, it may have been a necessary if ruthless improvisation. Spy-masters are not loving fathers.