Author: Beach Combing | in : Actualite, Contemporary, Modern , trackback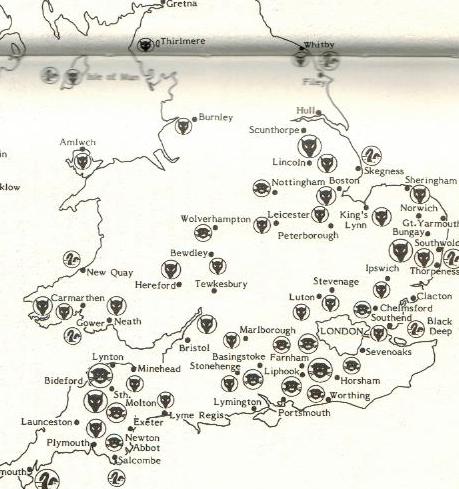 Beach is very gradually dipping his big toe into the world of black dogs: those fearsome creatures with eyes as big as saucers burning like fire seen out and about in the British countryside. The key guide is Trubshaw's Explore Phantom Black Dogs that has a number of fascinating essays including an introduction by  Bob Trubshaw himself and a fascinating essay by Jeremy Harte. (Heart of Albion Press is really a guarantee of quality.) In any case, in BT's introductory essay Trub talks of the way that 'we seem to be walking on the cracks between a 'phenomenon' and its folkloric echoes…. Such culturally specific perceptions of anomalous phenomena mean that visions of the Virgin Mary tend to be seen in Catholic cultures whereas Protestant ones tend to see ghosts, and Japanese ghosts tend to be different from British ones.' This post is to make a very brief comment about where black dogs and their cousins alien big cats (ABCs) are seen. At the head of this post is a map from Graham J. McEwan, Mystery Animals of Britain and Ireland: for our purposes serpents can be ignored and cats and dogs lumped together. Here below is another map, this time from Janet Bord's Fairy Sites a description of fairy locations. Note the counties in white where Janet Bord could not find any fairy-lore.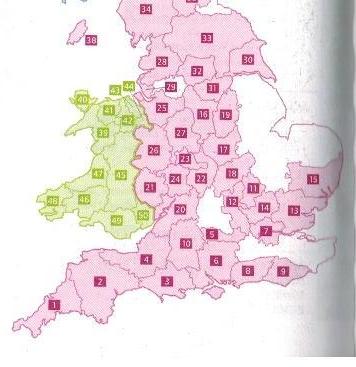 Both maps are inadequate: for example, there are some fairy tales (though not many!) in the white counties on JB's map. In fact, all the counties around London are the difficult counties as far as fairy lore goes. There are also many areas where the black dogs and ABC's have now been recorded not on McEwand's map. But for a working hypothesis there does seem to be some kind of anti overlap. Where there are not fairies there are black dogs. The one place that makes a mockery of this hypothesis is Devon and Cornwall (1 and 2 on Bord's map). These are two of the areas with the most fairy lore and two of the areas with the most black dogs and ABC lore. Should we just write them off as the exception or are, as is often the case with exceptions, these places actually the explanation?
Fairylore certainly once existed in Janet Bord's 'white counties' what is special about these places is that fairylore died out. Perhaps the key to the whole phenomemon is not that black dogs are Germanic and fairies are Celtic but rather that black dogs thrive where traditional belief has died out. Again though Cornwall and Devon are the ingrowing toenails of this theory. Any takers? drbeachcombing AT yahoo DOT com