Author: Beach Combing | in : Contemporary , trackback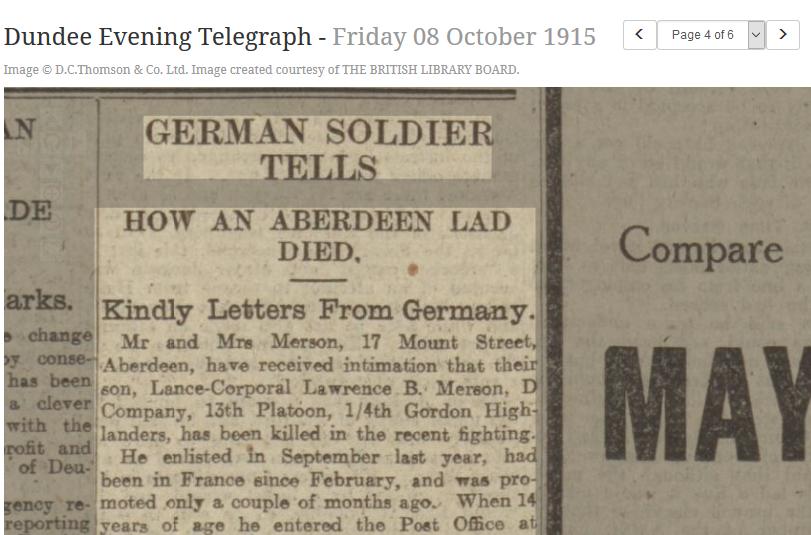 Beach ran across this very sad piece in the Dundee Evening Telegraph (8 Oct 1915), 4. It is perhaps not remarkable that an enemy soldier honour the body of a fallen foe: who is it who says that you can best measure relations in a war not by how soldier treat their enemies alive but how they treat them dead? However, it is remarkable that a soldier go to such trouble: a terrible piece of news travelled from Belgium to Germany, from Germany to Switzerland and from Switzerland to Scotland.
Mr. and Mrs. Merson, 17 Mount Street, Aberdeen, have received intimation that their son, Lance-Corporal Lawrence B. Merson, D Company, 13th Platoon, 1/4th Gordon Highlanders, has been killed in the recent fighting… Particulars of Lance-Corporal Merson's death reached his parents in a remarkable manner. A letter has been received by Mr. and Mrs. Merson from a German soldier, who found the body in a trench, removed the identification disc, all the papers and letters, including the pay-book, and sent them to his (the German's) sister in Frankfort, with an explanation of the circumstances, and requesting her to let the Highlander's relatives know of the Aberdeen soldier's death. The letters were forwarded by her uncle in Switzerland.
The newspaper includes the letter.
Frankfort-on-Maine. It is a very sad matter I am writing you. My brother sent home a letter from the front and begged me to write you. He stands in the west, and it was in his first letter since the hard fights there. My eldest brother was killed last year at Ypres, so that I know how glad we were to hear any details of his death. I think you have already heard that Lawrence B. Merson, whom I believe to be your son, did not come back from the last fight. We were enemies, but pain and mourning are uniting us. So thought my brother, too, for he wrote everything about your son he could find out. I just will translate to you:

'We led the way to our position, and found there a dead Highlander, who had a deep wound above the right eye, probably by a thrust of the bayonet. We found the following objects: book of payment, mark of distinction, a small sketch, and an instrument against the gases. The dead Englishman had his gun with the bayonet at (and there were spots blood on it) his right side. He was Highlander, with a kilt and bare knees.'

My brother sent these photos.
Of the dead body?! The sister continues:
I am sure my brother and his comrades did all honour to their enemy who died in their tracks.

An accompanying letter came through Switzerland from the German lady's uncle in Geneva, dated 2nd October, saying he was sorry to be obliged to send the intimation. 'My brother,' he added, 'is a clergyman for French Protestants in Frankfort, and his son is in the German Army, although we are of old Swiss origin, and he sent the intimation to his sister Frankfort. Your son did his duty for his country, and he will find his reward. God help you in these dark days.'
Beach was also pleasantly surprised that a British newspaper published the story in late 1915, just nine months before the Somme.
Why would a soldier go to such trouble over one corpse? He must have found many. Is it possible that he killed the man and that his sister diplomatically glossed over this? Or did he choose one corpse, recognizing that he could not do this with all? Did the man perhaps remind him of someone? Drbeachcombing AT yahoo DOT com. For another letter across enemy lines in the Great War…
Ruth in WA, 29 Aug 2017: Perhaps he took the trouble to send the letter because some Germans felt the Scots to be a true warrior and worthy of their esteem. They did call them 'The Ladies from Hades'. Between the kilts (which thought terrifies me since men cannot seem to sit properly in them), the charging into battle and the bagpipes (something else that terrifies me, especially when a certain family member has a knack for playing the music from them when I have a migraine), they could be a truly frightening sight on a battlefield.
But why this Scotsman? Ruth continues:
Perhaps because he stumbled across this one at a moment when his sympathies were stirred. Or it's all a ploy for sympathy by the newspaper?