Author: Beach Combing | in : Ancient, Contemporary, Medieval, Modern , trackback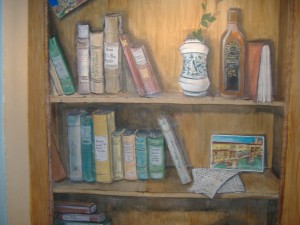 Beachcombing has had a lot of fun over the last year and a half cataloging invisible libraries, libraries that only exist in the imagination of authors and connoisseurs. Today, Beach thought he would take stock of the achievement to date and also, in a fit of utter self-indulgence, introduce readers to Mrs B's contribution to the field: a gift.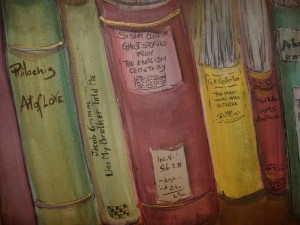 The following was created by a local artisan – who is responsible for the misspelling of Tolkien's name! – and was based on a list supplied by readers back in the day and by the invisible librarians listed below. It now hangs proudly in what used to be a doorway, but that is now a cement block between the Beachcombings house and the butcher next-door. Beach wakes up to the happy sound of corpses being dismembered: strangely therapeutic and cheaper than swimming with dolphins in the Indian Ocean.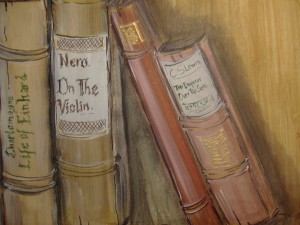 It's never going to fool anyone, of course: no one is ever going to reach out their hands and hit canvas. But it is nice to pass a shelf of phantoms every time you are going up to the 'night' part of the house: it prepares the mind for sleep and reminds the participant of the ultimate, wonderful futility of our time on this beautiful ball of rock.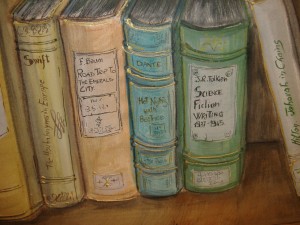 Some titles were sent in by readers. Beachcombing ventured a couple. And others still were stolen from existing Invisible Libraries: the invisible public domain is a wonderfully civilized thing.
And, while Beach is in an invisible mood here are all the ILs to date, others gratefully received: drbeachcombingATyahooDOTcom.
The Reading Library [just struck Beach that this was almost certainly Buckland's pun]