Author: Beach Combing | in : Contemporary, Modern , trackback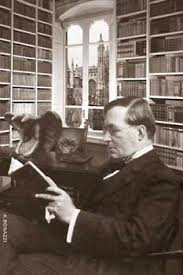 M. R. James is among the finest of the English-speaking ghost writers, finer even perhaps than Le Fanu and so much better than Howard Phillips L in style and in dialogue. But there is one undoubted problem with his canon: it is small, a mere thirty four stories. The quality is consistently high but fans can't help but be bitter that more was not written: why did James waste so much of his time blowing dust from medieval manuscripts and apocrypha when he could have been getting us fitted with pacemakers? Well, James, with charactestic honesty, outlined some of the reasons in a short and fascinating essay entitled 'Stories I Have Tried to Write'. In this essay he confessed that there were some tales that he conjured up but just couldn't get out of his head and onto the page. In this site's tradition of Invisible Libraries, books (or stories) that have never existed save in the imagination, Beach has decided to list these aborted fetuses today. Now why doesn't some horror publishing house get their act together and publish a collection with notable modern horror writers as the authors? Drbeachcombing AT yahoo DOT com It is not typical practice, but I've italicised short story titles as a tribute to James and because italics looks more impressive on the page.
Madame's Late Husband: a man on a train reads a novel only to find that a character has the same name as a woman sitting opposite him, and that there are worrying parallels between the woman's life and that of the character. (James suggested that the passage in the novel is not to be found when the reader goes back to check the details: cute.)
Death at the Window: A dead face with living eyes appears at a study window, when the inmate goes to inspect a mask has fallen to the ground, whose eyes though?
The Killer Cracker: Crackers are opened at a party giving happy but also sinister messages to the guests. What message will you get?
The Toad: A toad enters the author's house, what does this portent promise?
The Touch on the Shoulder: Three miles to go, a freezing night, then someone or something brushes your shoulder. You turn to face what?
Tracks in the Close: A priest has a pet familiar who is intent on hunting down a college boy: what else can the monstrous tracks in the snow outside the great house mean? (If James could be brought back from the dead just for a day, after a cigar and a fine claret, this is the one Beach would beg him to write)
These titles and descriptions are Beach's own based on James' rather laconic style. It would have been tempting to write first sentence's too. Any improvements send them in.
Note that 'The Toad' was more an autobiographical aside than a promised story, but with James every narrative counts…
30 Oct 2014: Chris from Haunted Ohio Books has given some extras. There is an unfinished story entitled Speaker Lenthall's Tomb, another entitled The Game of Bear and another called Merfield House. The Fenstanton Witch and Marcilly-Le-Hayer and possibly John Humphreys were apparently the stories given by James to two tales above: can you guess witch.