Author: Beach Combing | in : Modern , trackback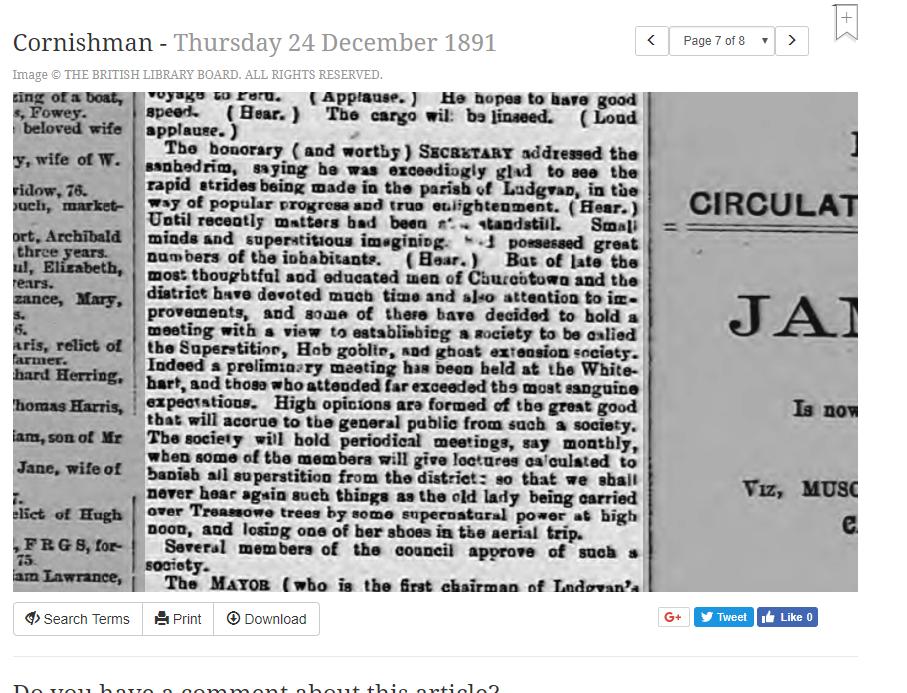 It is 1891. You are living in a small Cornish village and your neighbours get jumpy every time they see a shadow ('the ghost…' etc) and talk darkly of Mother Jones being a witch. Well, in most British villages it was a question of sermons, railway timetables and opening parish schools. But in Ludgvan, close to Penzance, which had had a traumatic ghost experience in the early parts of the 1800s, they did things differently. They had a meeting. At the local pub. 'Hear.', note, is British for rapturous applause.
The honorary (and worthy) secretary addressed the Sanhedrim, saying he was exceedingly glad to see the rapid strides being made in the parish of Ludgvan, in the way of popular progress and true enlightenment. (Hear.) Until  recently matters had been at a standstill. Small minds and superstitious imaginings had possessed great numbers of the inhabitants. (Hear.) But of late the most thoughtful and educated men of Churchtown* and the district have devoted much time and also attention to improvements, and some of these have decided to hold a meeting with a view to establishing a society to be called the Superstition, Hob goblin, and ghost extension society. Indeed, a preliminary meeting has been hold at the White-hart [pub], and those who attended far exceeded the most sanguine expectations. High opinions  are formed of the great good that will accrue to the general public from such a society. The society will hold periodical meeting, say monthly, when some of the members will give lectures calculated to banish all superstitions from the district: so that we shall never hear again such things as the old lady being carried over Treassowe trees by some supernatural power at high noon, and losing one of her shoes in the aerial trip.
So at least we get one local legend out of this hopeless effort. Any other anti-supernatural clubs? Drbeachcombing At yahoo DOT com
*Many Cornish villages are rather dispersed. The churchtown is the clutch of houses around the church, usually the cultural and social centre of the village. This could be read to mean 'the best folk in the parish not those hay seeds out in the woods'.